Reservations and Rates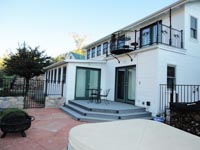 Rates are computed by the number of people staying overnight. No charge for children under 6. Two night minimum stay is required.
Standard Rate: Weekend $225 for 2 guests. Weekday $165 for 2 guests.
Summer Rate: Weekend $175 for 2 guests. Weekday $145 for 2 guests
Additional people are $25 each per night. Dogs are $25.
Special Event weekends: Bisbee Pride, Blues Festival and Stair Climb flat fee $850 for 2 nights with NO additional person fee.
AZ TPT and local taxes: additional 13.05%
We can securely process your credit (except American Express) or Debit Card.
We charge 100% at the time of booking, but you can cancel free of charge up to 60 days before arrival.
Rates are subject to change.
General Info and Guidelines
Check in time: 4:00 PM
Check out time: 11:00 AM
Private Parking for 3 cars 40 steps above home
We reserve the right to charge for damages