Reservations and Rates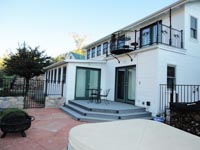 Read the Rental Agreement
Rates are computed by the number of people staying overnight. No charge for children under 6. Two night minimum stay is required.
Standard Rate: Weekend $249 for 2 guests. Weekday $185 for 2 guests.
Summer Rate (June, July, August): Weekend $199 for 2 guests. Weekday $159 for 2 guests
Additional people are $25 each per night. Dogs are $25.
AZ TPT and local taxes: additional 13.05%
We can securely process your credit (except American Express) or Debit Card.
We charge 100% at the time of booking, but you can cancel free of charge up to 60 days before arrival.
Rates are subject to change.
By booking, customers are assumed to have read and agreed to the rental agreement.